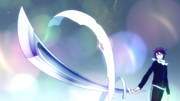 The Yukine Arc is the first arc of the ノラガミ Noragami series by Adachitoka. It spans chapters 1-11 of the manga and episodes 1-10 of season 1. It includes an episode adapted from a chapter of the side-series Noragami Shuuishuu.
Next arc: Rabou Arc (anime only)
Next arc: Bishamonten Arc (canon-line)
Short Summary
Hiyori meets and befriends Yato, and Yukine has a hard time adjusting to life as a shinki.
Extended Summary
Chapter 1: The Man in the Sweatsuit Yato searches for a cat named Ue-sama. Hiyori knocks him out of the way of a bus, and develops a condition where her soul slips out of her body. Yato accepts her wish to fix it, though he doesn't actually know how.
Chapter 2: The House Cat, The Stray God, and The Tail
Chapter 3: Like Snow Hiyori continues searching for a shinki for Yato. Yato finds and names Yukine just in time to slay a phantom.
Chapter 4: A Few Godly Perspectives
Chapter 5: Borderline
Chapter 6: Be Afraid
Chapter 7: Benighted
Chapter 8: Strays On A Stormy Night
Chapter 9: Abominable Creature
Chapter 10: Crossing the Line Yato helps Manabu Ogiwara confront his bullies. Yato collapses due to extensive blight caused by Yukine, and Hiyori carries him to Kofuku's house for help.
Chapter 11: A Name Daikoku, Mayu, and Kazuma agree to partake in the purification ritual. Yato refuses to give up Yukine's name, and Yukine finally confesses his sins.
Character Debuts
Keiichi's mother

Mrs. Sasaki
Adaptation Notes
References