Touma
Name
Name:
Touma
Kanji:
当麻
Rōmaji:
Tōma
Profile
Race:
Shinki
Gender:
Female
Hair:
Black
Eyes:
Ocean blue
Occupation:
Bishamonten's shinki (Former)
Personal Status
Status:
Deceased
Media
Manga Debut:
Noragami Chapter 23
Anime Debut:
Noragami Aragoto Episode 04
Japanese Voice:
Atsumi Tanezaki
English Voice:
Kristen McGuire
Touma (当麻) was one of Bishamonten's shinki.
Appearance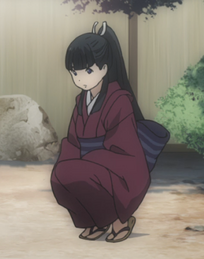 She appears to be in the same age as Yukine. She wears her long black hair in a ponytail. Touma wears a burgundy kimono with a dark blue striped obi sash. She's also wearing straw sandals. Her Vessel form and shinki name is unknown.
Personality
Due to her youth, she appears to be bold and kind towards other Shinki, especially to Kazuma.
Ability
Boundary: Like all Shinki, Touma can create a boundary to protect herself and others from Ayakashi (Phantoms).
Community content is available under
CC-BY-SA
unless otherwise noted.