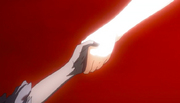 The Soul Call (魂呼び Tamayobi, lit: "soul summoning") is a summoning technique which is known to be the only way for someone to escape the Underworld. It usually does not work on humans, although a loophole for this exists.[1]
Description
Only living humans can use this ability; it fails if performed by a god, spirit, or shinki. It works by having one's name act as a tether between the Near Shore and the Far Shore. Therefore, when a human speaks the target's true name, they are able to summon them to the living realm from the Underworld. The Soul Call does not work with nicknames or aliases, as shown by how Yato could only be retrieved using his given name, Yaboku.[2][3]
It appears that this ability is not common knowledge amongst gods. Neither Yato nor Bishamonten were aware of its existence, and Kofuku only learned of it after being informed by Amaterasu. However, Nora did know of it, after most likely being informed by Father.
Usages
An unknown person used it on Father.[2] Although humans are not supposed to be able to return from the Underworld after death,[4] Father was able to be called back through a loophole, giving him "godlike abilities" upon return.[1] The exact details of the loophole are currently unknown.
Hiyori Iki used it on Bishamonten and Yato.[2][3]
Adaptation Notes
Trivia
In old Japanese tradition, tamayobi (魂呼び) or tamayobai (魂呼ばい) refers to attempts to call a deceased person's soul back to the living realm.[6] This was done by either climbing to a roof or looking down a well and shouting the deceased person's name. Interestingly, a modern Japanese word for "revive"/"come back to life" is 蘇る yomigaeru, lit: "to return from Yomi (the Underworld)".[7]
References