WELCOME TO THE NORAGAMI WIKI
Administrators • Policy • Wiki Activity • New Pages • New Images
Fast, cheap, and reliable! Delivery god Yato, at your service!
Welcome to the Noragami Wiki, a community dedicated to everything about the manga series Noragami (ノラガミ) by Adachitoka! As you look around, be aware of marked articles containing major MANGA SPOILERS.
You can help us expand by creating or editing our pages!
Before editing any articles or uploading images, please look over our Manual of Style and Image Policy.
We currently have 21,396 edits to 415 articles and 901 images on this wiki.
STORY
Based on the manga and anime written by artist duo Adachitoka, serialized in Monthly Shounen Magazine and animated by Studio Bones.
Yato is a minor deity and a self-proclaimed "Delivery God" who dreams of having millions of worshippers. Without a single shrine dedicated to his name, however, his goals are far from being realized. He spends his days doing odd jobs for five yen apiece, until his weapon partner becomes fed up with her useless master and deserts him.
Just as things seem to be looking grim for the god, his fortune changes when a middle school girl, Hiyori Iki, supposedly saves Yato from a car accident, taking the hit for him. Remarkably, she survives, but the event has caused her soul to become loose and hence able to leave her body. Hiyori demands that Yato return her to normal, but upon learning that he needs a new partner to do so, reluctantly agrees to help him find one. And with Hiyori's help, Yato's luck may finally be turning around...
CONTRIBUTE
To create a new article, simply enter the article title in the box below:
Trouble getting started?
LATEST RELEASE
Volume 23
Release Date: November 30, 2021 (ENG)
Chapter 99 (Part 2) - Haru and Yuki
Release Date: April 6, 2022 (JP)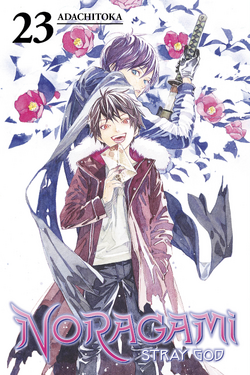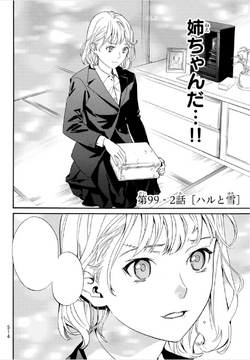 UPCOMING RELEASE: Chapter 100
UPCOMING RELEASE: Volume 25 (JP)
UPCOMING RELEASE: Volume 24 (US)
UPCOMING RELEASE: Noragami Omnibus 1
AFFILIATES
Want to affiliate with us?
If you would like to become an affiliated site, please contact an administrator.